Remove dark spots on your face
I know that all women are a little vain. We love to see ourselves always beautiful and we feel bad when we have defects like spots, acne or small scars on our face (even if they are tiny). It is normal!
We look for all the solutions and creams to correct them … without results.
The same thing happens to me, that's why I want to give you my best recipes so that you can eliminate the dark spots of your face in a natural way.
The appearance of these annoying spots is due to the excess secretion of melanin in the skin, caused by factors such as overexposure to the sun, hormonal imbalance, pregnancy, certain medications, vitamin deficiencies, lack of sleep and too much stress.
If you are tired of spending money on chemical tests:
One of the quickest and easiest solutions you can find in your kitchen or your nearest supermarket: lemon juice, and that is that lemons have vitamin C, which can lighten dark spots on your face.
Recipe with lemon:
Put some fresh lemon juice in a cotton ball and rub directly over the affected skin area.
Let it dry and then wash it with pure water.
Continue applying this home remedy for at least two weeks to get the result you want.
The beautiful ones of delicate or sensitive skin, can dilute the lemon juice with pure water, rose water or honey.
Wait! Do not use lemon juice if you have open wounds or skin lesions. Also, avoid going out in the sun after applying it, as it can make your photosensitive skin.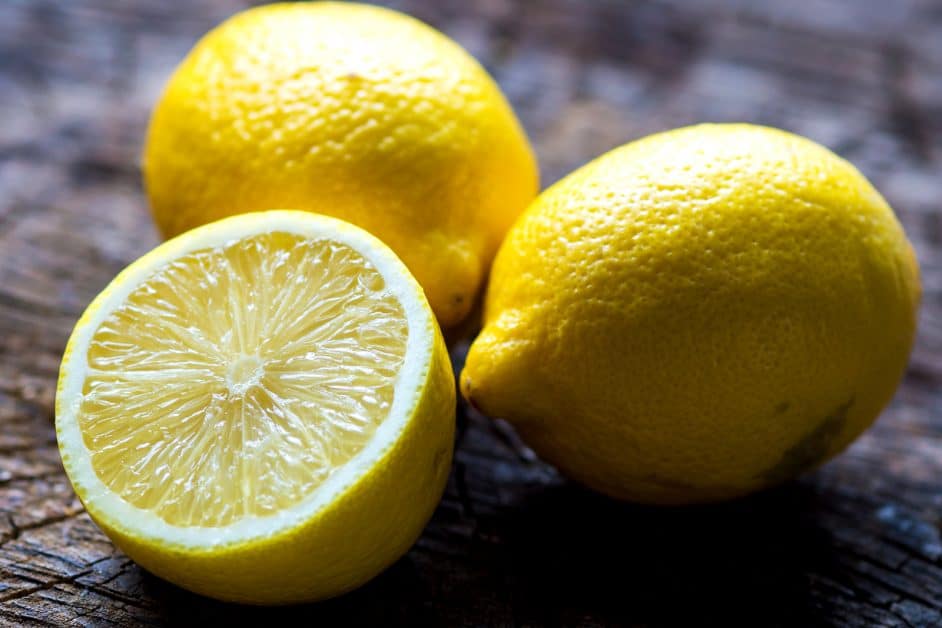 Instead of making potato chips loaded with fat, why not use them better by eliminating some dark spots and patches on your face! That's right, the starch in the potato helps reduce pigmentation, while the enzymes in it promote healthy skin. You can use them in three ways:
Method 1
Cut a potato
Place a slice directly on the black spots.
Leave it on for a few minutes and then wash your face with warm water.
Method 2
Peel and grate a potato.
Mix 1 teaspoon of honey with the grated potato.
Apply the mask on your face and let it dry for 15 minutes.
Rinse with warm water.
Method 3
Extract the juice of 1 potato.
Add a little lemon juice and a pinch of turmeric powder.
Apply this mixture in your black spots.
Let it dry, then rinse
 Tricks to eliminate pimples and have a clean face
Many people do not know it but the first cause of the formation of pimples, acne or black spots on the face, is a high level of stress. This state is transformed into inflammatory pathways that cause acne outbreaks. There are also other causes that determine the pimples on the skin, menstruation, the make-up of irritating compounds, it is the use of medicines and even the genetics itself.
Any way you have acquired a complexion marked by black dots, the truth is that they represent an unpleasant phenomenon, which can become a social problem, because people who suffer from pimples, feel, in many cases , rejection, shame and often have more than one drawback to relate to others. For this reason, this article brings you several ideas of how to eliminate pimples and improve the appearance of your face.
Ways to remove and prevent black spots on the skin
A good exfoliation of the skin is a good start, of course it is better if it is not exaggerated. For example, you have to choose soft products and natural exfoliants for a procedure without risk of dryness. It is better to avoid those treatments with aggressive products that, in the end, can cause more irritation and inflammation than the one that was had, leading to acne breakouts and other conditions that would worsen the condition of the skin.
A good diet can be vital to eliminate the pimples or at least to prevent their appearance. Although food can not directly cause acne, for many people the foods they eat are responsible for skin conditions. In any case, the ideal will be to maintain a balanced diet and as healthy as possible, that is, lots of fruit and vegetables, fresh foods, instead of fatty foods, full of oil or butter. Avoiding those kinds of foods that can affect your face, is a big step to eradicate skin problems.
If possible, avoid the common practice of removing the pimple with the nails. Tighten or sharpen the skin to remove fat, can only result in a scar, redness, inflammation and even a greater infection in the skin, because the nails, in general, are dirty. What is recommended is to apply a hot compress to remove the pimples that will loosen the fat plug. Then you have to take two cotton flakes clean, to remove pimples, one is placed on each side of the black point, apply a smooth and uniform pressure inward. If a ball of fat comes out , it is carefully removed, if not, it is not touched, it is probably not ready to go out yet.
Home Peeling: For acne scars
To maintain a clean skin it is important that we clean it in depth, without irritating it, and be able to be with natural products for the skin, which have natural antibacterial properties such as lavender or tea tree .
To maintain a healthy skin and prevent impurities, it is important to exfoliate the skin to eliminate dead cells, thus we will be able to regularize the excess of fat in our skin. I leave one of my beauty tips to minimize and in some cases eliminate acne spotsand acne scars.
Properties of the ingredients to use in the homemade natural mask :
– Oat flakes : Oatmeal is widely used in natural cosmetics, helps the skin structure thanks to its PH (5.5) neutral. Among the dermatological properties that it possesses, it absorbs dirt from the skin and helps to detach dead cells.
– Lemon: Among its properties cleans the skin and is a great astringent. It regulates the excess of fat that develops our skin.
– Honey : It has bactericidal properties and acts by eliminating the bacteria that produce skin infections. This makes any acne treatment that contains honey, improve our skin and prevent the appearance of acne and pimples.
– Tomato : It has astringent, refreshing, balancing and antioxidant properties.
– Cucumber : Among its properties, it is astringent, moisturizing, refreshing and softening.
Step by step to make the mask for the face:
1  We will clean our skin.
2  In this step we will perform a natural exfoliation , we will take a handful of preferably organic oat flakes and 1/2 lemon juice. We will mix everything in the chopper or in the blender, we apply it in the face by means of circular movements. We leave it for 5 minutes on our face. With this step we get to remove the dead cells and open the pores.
The lemon will leave our skin red, if we feel any discomfort we remove it immediately.
In this step it is very convenient to make a small test with the lemon , before using it on the face. Perform a sample of lemon juice in the inner part of the arm, remove it at 5 minutes and wait 24 hours to see if the skin has any reaction, so we can see if we tolerate it, we must remember that lemon is an acid and sensitive skins do not tolerate lemon, if we notice itching, we remove it immediately with plenty of cold water.
3 º Apply honey, it must be warm to prevent our pores that are dilated by exfoliation, do not close. We apply honey with a tissue or cotton on the areas of acne scars or spots. We apply it for 5 to 10 minutes.
If we feel discomfort or itching we immediately remove the mask with cold water.
4 ° We take 1/2 1/2 tomato and cucumber and crush, we applied the extracted juice as toner . We apply them for 10 to 15 minutes.
Between step and step you have to remove the remains of ingredients from the face with cold water or wipes.
This homemade mask is used to reduce or eliminate acne scars , it can be used once a week, but it is not good to combine it with any other treatment that we are using for the skin, we should not abuse treatments for facial skin.
The treatment should not forget that it is a peeling , we will preferably do it at night , since it leaves our skin very sensitive, and when we use lemon it is not good to expose the skin to the sun.
Natural cosmetic treatments are very effective, but the results depend on the type of skin and the consistency of the treatment, each type of skin is different in terms of time to see results. We must always listen to our skin and when we apply any treatment, if we feel discomfort, itching we should remove the mask immediately with cold water.
We must remember that this mask is not a substitute for any treatment that we are carrying and recommended by a specialist, and that the results will depend on our skin type, age ……  going to a specialist we will find the treatment that best suits our type of skin .